One thing that I've always said that I will never be able to do is write a novel. It's beyond me. Well, it's so far beyond me that it's apparently right behind me. November is National Novel Writing Month, or NaNoWriMo, and son of a bitch if I'm not going to participate this year.
What?! What am I doing?! Don't I have a small baby? Don't I have a solo show to finish writing? Don't I have a business that I want to get off the ground? Aren't I in the middle of trying to lose almost a third of my body weight?
I know! I don't know! I do! Yes! Yes, I do! I am!
So, the thing with NaNoWriMo – if you're not familiar with it – is this: you start writing a novel on November 1st. You can't start early, although you can start late. You write a 50,000 word novel. It doesn't have to be a good novel. It just has to have 50,000 words in it. You have to finish it by midnight on November 30th. And the payoff is…you can say that you did.
I'm gonna do this thing. You know why? Because I think that writing a novel really fast will work in a weirdly great symbiotic way with the other things I'm working on. I imagine it like this:
If I can write a 50,000 word novel, I can lose fifty pounds!
If I can write a 50,000 word novel, I can write a little solo show!
If I can write a 50,000 word novel in a month, I can write some marriage ceremonies and get a website and business up and running!
I think all these things can work symbiotically together. If I can lose fifty pounds, I can do a solo show. If I can do a solo show, I can lose fifty pounds. If I can do a solo show, write a novel and lose fifty pounds, I can start a business. If I can do a solo show, write a novel, lose fifty pounds and start a business, I may get the idea that there are a lot of things I can do.
It's funny. I have this strange sense that I'm on the verge of some kind of personal renaissance. For most of my adult life, the number 40 – referring to the age – has hung boldfaced in my mind. Like it's my target age. I've just had this subtle sense that I was going to sort of kick ass at 40. Now, I'm not 40 yet. I'm 37. But I have nearly three years in between now and 40 and a lot can happen in three years. And I can feel myself loosening my grip on some old ideas about myself.
One old self-image snapshot floating around in the billfold of my mind is of a young woman, maybe in her 20's. She's thin from lots of smoking, but not fit – a weakling. Her hands shake. She's unassertive, doesn't finish things because she doubts she was good enough ever to start them. She's kind of incompetent, maybe. Or she believes so much in her incompetence that she's frozen, and then she's got a self-fulfilling prophecy on her hands. She's soft, in a sad way.
Another more recent snapshot, though becoming outdated, is of a slightly older woman, in her early/mid-thirties. She's plump, grounded, has sort of a mask of contentment on. She doesn't start things, because she knows she won't finish them, so then she is spared the disappointment. This passes for wisdom! She feels wise. Don't try. Give up first! Then you can't fail! Safe as houses. No smoky, no shaky. Solid as a rock. She's more responsible than she was in her 20's, doesn't let other people down like she did back then. Except for herself, but who asked about that? Her extra fifty pounds is her route to personal power. If you take up physical space, then you don't have to take up space in other ways. Let others shine! They deserve it! Me, I'm just a fat and happy housecat. I'm not interested in all that shining. This woman is soft in an increasingly unsad way, last point aside.
A novel has always been such an impossibility in my mind. I've always thought that novelists are honest-to-god magicians. I know how to tell my own stories, but the creation of character and plot and massive amounts of detail from thin air is jaw-dropping to me. I've said it over and over again that I could never do it, that I don't have the gene. If I can blast through that, then I'm banking on the idea that my psyche will question the other things I may secretly have pegged as impossibilities.
This is the snapshot I want in my wallet:
I'm forty. I'm slender and energetic. I haven't abandoned my hold on contentment, but I'm not so exclusive with it anymore. I like a little creative discontent, a little fire under my ass. If there's something I want to try, I try it. If there's something I want to say, I say it. If I do or say it badly, well, whoops. I'm surrounded by responsibility to family, babies, husband, friends. I'm anchored by responsibility to my own talent and dreams. Fufilling one helps me fulfill the other. I'm kind to my hopes so I have no reason to be unkind to others. This is a fine kind of softness.
I have an actual idea for this NaNoWriMo project. I have a concept. I have the two main characters. I have a situation. You're allowed to outline your story beforehand, you just can't write any actual text before November 1st. I'm kind of thrilled about getting started here. I'm champing at the bit a little.
So I'm going to write this novella and think of it as a spark near the dry kindling lying around my psyche. Come on, little fire. Let's spread and get big.
Bloom Status: Upward, upward! Like flying pigs!
Sometimes I do this really fun thing, and I'm going to do it here in front of you now. What I do is give myself a nice big fake amount of money, and then go on the internet and pick how I'd spend it. The first time I did it I gave myself ten thousand dollars, which ended up not being enough for the fun I had begun concocting so I spotted myself an extra fake ten thousand dollars. The next time I gave myself thirty thousand dollars, and then forty thousand dollars. This time I shall give myself fifty thousand dollars. And next time I'll maybe bust out of this ten-thousand-dollar-increment thing and give myself a huge ton of money.
I don't know why I'm working with Antarctica dollars here. But I am.
I'd like to note that the charitable urge hasn't kicked in yet, with these fake dollars. Mostly I've been doing things like flying first class to London for the weekend to see Madonna in concert, staying at the Bellagio in Las Vegas, buying lots of pairs of $300 shoes here, ten pairs of the same corduroy pants in different colors there. Taking classes. Getting massages. And I think this is unlikely to change for this go-round. I don't want to be all, I'm giving all of this to orphanages, naturally just because I'm doing this in public this time. I think once I get into big enough sums of money, I'll run out of selfish things to spend it on, and then the orphanages and the environment can start seeing a little love from me. But right now, I have a feeling that the main recipient of all this fake money love is going to be moi, moiself if I may get all Miss Piggy on you.
(One of my favorite books when I was ten or eleven was Miss Piggy's Guide to Life. So I just googled it. And you can apparently buy it used on Amazon for ONE PENNY. Splurge, dudes. Spring for it. She has much to teach us, like how to make a beautifying face mask out of chocolate pudding.)
All right. Enough mucking around! This fake money is burning a hole in the fake pocket of my fake pants!
Wait. Slightly more mucking around. I forgot to say why I do this, other than the fun of it. I'm trying to show the universe that I have specific plans for all the money I know it's going to give me one fine day. I feel like specificity is a boon in asking the powers that be to grant you your wishes. If you say to the universe, GIVE ME SOMETHING AWESOME! without getting more specific, the universe might be like, COOL! Here is a lifetime pass to see SIXTY FOUR FUNNY CARS drag racing at this AWESOME TUKWILA ARENA*. The universe and you might have different taste. Kids aren't ever like, Oh, Santa, just bring me some toys you think I'd like.
*That actually sounds better than I thought it would, so substitute something crappier and less accidentally good.
All right, now I mean it. Now I'm serious. Now I'm ready.
Fifty thousand faux-smackers, kiss my fancy imaginary purse goodbye!
**********
I always start at Anthropologie. I can knock out many of these funds quickly there. Don't worry, you won't have to read about fifty thousand dollars spent a few hundred at a time. There will be some big ticket items.
That said, I give you:
Figgy Pudding boots, $388.00. Look at 'em, fer chrissakes. Frivolity incarnate.
Dearborn boots, $498.00. A boot theme emerges.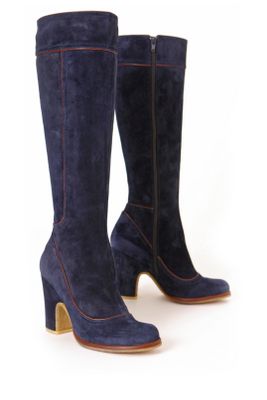 Brushwood boots, $528.00. Let me eat boots!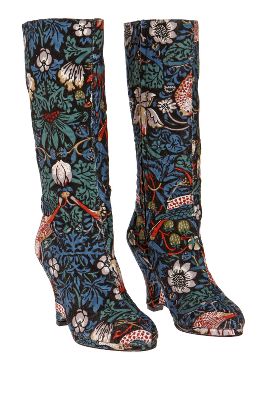 Goody two-shoes boots, $448.00. I will cease and desist with this pair and move on. For now. For you. But I'll be back, boots.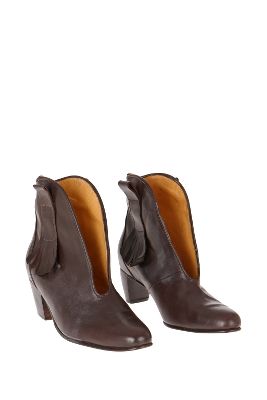 I've spent $1862.00 on boots. Excellent. On to something large and juicy, now. Travel, I think. Yes. Let's see….Japan, here I come!
Dave and Finn and I will go on a fancy, eight-day Tokyo/Kyoto tour. We'll stay at the Park Hyatt Tokyo, the hotel from Lost in Translation. A description from the tour company:
Park Hyatt Tokyo
This hotel is located atop one of Tokyo's tallest skyscrapers. On a clear day, the hotel provides a rare view of Mt. Fuji from Tokyo. Guest rooms are some of the largest in Tokyo, with slick modernist decor, spacious bathrooms, and added luxuries such as an English-Japanese dictionary, a collection of cds and works of literature, and tasteful Japanese crafts specially-commissioned for the hotel that are available for purchase. The Park Hyatt is home to two of Tokyo's most popular restaurants: the New York Grill & Bar and Kozue. The luxurious fitness club and spa is in a glass atrium with spectacular views of the city. This is truly one of the world's most elegant urban retreats.
And then in Kyoto, we'll stay here:
Westin Miyako
With a lush green garden and inviting teahouse, the soothing Westin Miyako Kyoto may well change your expectations for urban accommodation. The hotel has recently been revamped, and guests will find serenely beautiful rooms that celebrate simplicity without sacrificing luxury or style. After a day exploring Kyoto's elegant temples and gardens, the pristine Westin Miyako Kyoto offers a perfect refuge for thoughtful reflection on your recent adventures in Japan. Guests will also enjoy the many restaurants and lounges on site, each with a distinct atmosphere. After a restorative cocktail in the Moonlight Lounge, step outside to admire the sweeping views of the city below and let any accumulated travel fatigue gently melt away in the quiet calm.
The cost per person for this tour is $6700.00. So, three of us, $20,100.00. Plus my boots brings me to $21,962.00 so far, leaving me $28, 038.00. You gotta figure some mad money to spend in Japan. So, let's say a thousand bucks a day. Now I've got $20,038.00. I'll spend that $38 at the airport on magazines for me and Dave and coloring stuff for Finn. A nice twenty thousand even remains.
I hear that hypoallergenic cats are pricey. Let's get a hypoallergenic kitten. Sounds good.
That'll run me $3,950.00. Kittens are cute! Look at him. Let's call him Mr. No-Itchy. Hello, Mr. No-Itchy.
I got $16, 050.00 left. Hmmm. Let's get Mr. No-Itchy two fancy houses from the loco Neiman Marcus Christmas catalogue. These ones are $5000 and $7000 apiece. Kick that little white screwball dog out of there and make way for my spoiled, hypoallergenic kitten.
Now I have $4050.00 left. Mmmm…some clothes to go to Japan in. Mayhaps this Marc Jacobs turtleneck and wrap skirt:
$1650.00, leaving me $2400.00. Something less schoolmarmy now.
A little Dolce and Gabbana polka-dot number. A little out of my price range, with the outfit running $3000.00 total. But look what I just found in my imaginary purse? Six hundred extra dollars.
PHEW. DONE AND DONE.
Tell me some outlandish things that you would spend your fake cabbage on!
Bloom status: Well, you know, upward, because of fun and because of specificity and because I say so.